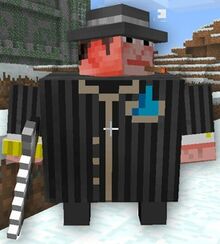 Sneaky Sal is a Mobster who will sell random items to the player. If you try to rip off or attack him, he will send rats after you.
Quotes
[
]
"Not there!"
"Come to Papa!"
"Heey, you?"
"Quick, don't waste my time, what do ya need?"
"Alright, alright, hurry up, what do you need?"
Only ya want kid?"
"Alright, that does it."
"Get him boys!"
"Ooh!"
"Uuh!"
"Nah"
"Ooh! Right in the chumps!"