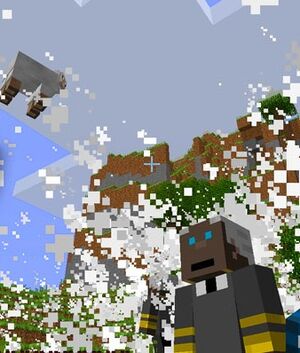 The Preacher is one of the many neutral mobs in MoreCreeps and Weirdos. What makes the Preacher special is the characteristics he has. Being able to levitate other mobs is a good example.
The Preacher will drop many items upon death; here is the list:
Diamond
Gold
Lapis Lazuli
Book
Apple
Rose Red
Cocoa Beans
Behaviour
Edit
The Preacher will remain passive until provoked. Whatever attacks him, he will levitate that mob towards the sky whether it is the player or just another ordinary mob. Being levitated can deal an unknown amount of damage to the player; this is why you should never harm a Preacher. If you shoot the Preacher with a Raygun, instead of making you levitate the Preacher himself will levitate.
V1.3-ADDED: Preachers who ramble on and on about the gods of Minecraft.
V1.31

FIXED: Pacifist Preachers. You will now see sacrifices of all who dare to lay angry hands on these holy dudes.
FIXED: Preacher drop error. Preachers sometimes drop Books. They also drop Gold!

V1.5-TWEAK: Preachers victims now get pushed around a bit more.
V1.8

TWEAK: Preachers are better protected against Goo Goats, but will still take some damage.
ADDED: A few more Preacher sounds.

V1.92-TWEAK: Preachers now have greater rewards.
V1.93-FIXED: Preachers can now handle infinite enemies.
V1.94-FIXED: Preachers can no longer be drowned.
V1.95

TWEAK: Preachers can now be killed by Lava.
TWEAK: Preachers drops now include: diamonds, gold, cocoa beans, apples, books, rose red and lapis lazuli.

V1.97-ADDED: Money hurts Preachers. Still not intended use, but just for fun!
V2.20-ADDED: Shrink Ray now works on all creeps except the following who have immunity: Schlump, Castle King, Preacher, Rocket Powered Horse Head and FloobShip.
Achievements
Edit
Go to Hell: Kill a Preacher.
False Idol: Kill a Preacher with Money.
"Put your hands together as we... Oh stop it!"
"That's it, that's it, that's it... that's it"
"You want to celebrate? Just look at me."
"Understand that when I come to visit you, I'm not playing."
"You can't reject it."
"I've never been myself."
"How can this be?"
"And if you look at it naturally, no you can't call yourself a virgin."
"I-I-I want you to tell ya--to tell ya--tell ya neighbor-."
"I am riding... a jackass!"
The Preacher is supposedly the most popular mob in MoreCreeps and Weirdos due to his wicked appearance.
The Preacher is the exact same size as the player.
Community content is available under
CC-BY-SA
unless otherwise noted.