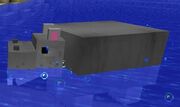 The Hippo is a passive mob that doesn't serve any purpose to the game making it the only mob in MoreCreeps and Weirdos that doesn't have any use.
Uses
[
]
Hippos will not yeild anything upon death and don't provide any items for the player to obtain.
Behaviour
[
]
Hippos are mostly seen in water, especially in Ocean and Swamp biomes. They act like the passive in-game mobs only they don't drop anything.
History
[
]
Trivia
[
]
The Hippo serves no purpose what so ever to the game, making it the most worthless mob to date.